Krystal Kettle Geode Buckets!
Gem mining with our Krystal Kettle bucket just got more exciting! We now have gallon buckets that include break your own geodes! These geodes are 95% hollow, are easy to break and contain beautiful crystals inside!
Limited buckets available!
Shop Our Geode Bucket
Display Your Treasures!
We now offer display cases to show off your treasures and keep them safe! Each case comes with 12 dividers which make storing your large and small treasures a breeze!
Display Cases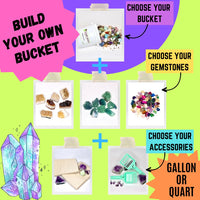 BUILD YOUR OWN BUCKET!
Treasure Buckets Co. now offers the option to build your own quart and gallon mining buckets! Choose your bucket, gemstone add-ons and accessories to make your own custom treasure hunting adventure!
Build Your Own Bucket
OUR GEMSTONES, FOSSILS, SHELLS, SHARKS TEETH AND THE LIKE, ARE NATURAL AND GENUINE
We get a lot of questions asking if our gemstones, fossils and shells are genuine. We are proud to say that all of our gemstones, fossils, shells and sharks teeth are all natural and 100% genuine!
We pride ourselves on finding the best specimens to put in our buckets and want to bring an authentic archeological dig and/or gem mining experience right to your home.
We now offer Buckets and Kits!
Already have one of our mining kits and just want some buckets to add to your collection? We now have the option to do so! All of our Krystal Kettles, Fossil Finds and Mystery Buckets come with the option of a bucket or a kit! Which one will you choose?
Mining Buckets
History At Your Fingertips
Many of our buckets contain treasures millions of years in the making. You will not only have fun excavating your finds but will have pieces of history to add to your collection.
Fossil Finds Quart Bucket
Dino Digs Buckets
Hold an archaeological dig right in your home! Our Dino Digs buckets contain dinosaur eggs and bones. What will hatch out of your eggs?!
Dino Digs Bucket
Beach Buckets
Bring the beach to your home! We know that a lot of beach vacations have been cancelled but we have you covered! Our Beach Buckets are full of sand and seashore treasures that are sure to bring joy to the whole family!
Beach Bucket Gallon Bucket
Krystal Kettle Buckets
Gem mine from your kitchen and avoid the tourist traps and crowds! Our Krystal Kettle buckets are full of beautiful gemstones that are sure to wow all who set eyes on them!
Krystal Kettle Gallon Bucket
Educational Tools
All of our buckets come with an educational page which explains the history of the contents in the buckets, the processes of how the items are formed in nature and fun facts. Our buckets are great for schools and educational programs, as well as at-home learning.
We just ordered the Krystal Kettle quart and all I can say is wow! The gemstones that come in this bucket are beautiful and there is an ample amount!

Michael D.
I ordered the Dino Digs bucket for my son's birthday. He had so much fun finding the eggs and bones. It kept him busy for hours!

Anna N.
I wish I could give Treasure Buckets more than 5 stars. Their fossil bucket not only includes rough fossils but also includes primo ones! Definitely worth the price!

Russell B.
"This is better than video games"